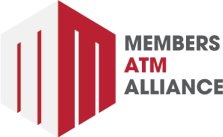 Getting to Know Members of Your Members ATM Alliance Team
Members ATM Alliance (MAA) is an ATM management company that provides a full suite of ATM managed services for our clients. Our program relieves our credit union clients from the burden of managing their ATM fleet. When clients join MAA they receive many great benefits including:
• Financial savings on managing their ATM fleet
• Full-service ATMs and supported transaction options for their cardholders
• Our clients rest easy knowing their ATMs are being managed & monitored 24/7 by a team of trusted professionals
• Streamlined cash management process
• Full settlement & reconciliation services provided
• Comprehensive deposit processing services
Getting to Know Kyle Fowler

Kyle Fowler is the Vice President of Member Alliances and an expert in the field with more than 18 years of experience, seven of them with members ATM Alliance.

Kyle graduated from Rocky Mountain College in Montana, then attended the University of Alaska in Anchorage. Kyle is based out of our Duluth office.

What is your favorite thing about working here?
I enjoy working and interfacing with the various CUs in our three states. I also think we have a great team that I get to work with!

Where is your favorite place you've traveled?
I have a lot of places that I enjoy visiting. I love spending time up in the Great Smoky Mountains as it reminds me of the areas I grew up in.

What is the best piece of advice you have ever received?
Maybe cliché, but it's to be yourself. I think we struggle emotionally & mentally when we try to be something we're not. It's not maintainable in the long run. Nobody is the same, and you shouldn't try to be someone else.

Getting to Know Garrett Mills

Garrett Mills is an Operations Manager with more than three years of industry knowledge. Garrett attended Kennesaw State University and Georgia State University. Garrett is based out of our Duluth office.

What is your favorite hobby?
Swimming

Do you have a favorite quote? If so, what is it?
"The two most important days in your life are the day you are born, and the day when you find out why." – Mark Twain

What is your greatest accomplishment?
Finishing college with minimal debt.

Getting to Know Lauren Hivale

Lauren Hivale is an Operations Specialist and has been with MAA for one year. Lauren is currently enrolled at Western Governor's University for Bachelor's in Business Management. Lauren is based out of our Duluth office.

Where is your favorite place you've traveled?
India

What is the best piece of advice you have ever received?
Know your worth, then add tax.

What is your favorite book and why?
The Sun and Her Flowers by Rupi Kaur. This book is my favorite because Rupi Kaur touches on subjects that aren't talked about often enough. She talks about things that are normalized in Indian culture that resonates with me a lot. Her writing style is also just beautiful.
Our daily lives have changed drastically over the last decade, and how we interact with friends, family, colleagues, and even businesses look very different. We've evolved to become digital-first beings, never far from a screen and driven to connect digitally. How has your organization responded to these changes? Perhaps adding some application forms or chat to your website and app? But how can you meet your members where they are—Onscreen—and provide an optimized, seamless experience?
In the age of consumer choice, members control the conversation and member service has become a key differentiator. Digital Member Service platforms, like Glia, can help you offer a seamless experience and improve satisfaction. Benefits of Digital Member Service include:
• Reducing member effort by meeting them where they are
• Providing MSRs context to be more effective in resolving inquiries
• Increase conversion by offering contextual on- and off-screen guidance using the channel that the member chooses
Why Glia Digital Member Service Technology?
Glia provides digital-first member service technology that is reinventing how credit unions support their members online. Unlike fragmented point solutions, Glia's platform was architected from the ground-up to seamlessly unify all digital channels in an easy-to-use Digital Member Service solution that meets the security and scalability needs of the most discriminating financial institutions.
Glia enables representatives to engage with members where they are online, see their screen, and co-pilot them to resolve issues or complete applications without having to re-explain as they go. Learn more here, then contact your LEVERAGE representative to request a personalized demonstration today.
Growth by Design is offering a discount on website designs for your credit unions. Here are some of the amazing features you can expect from a website designed by Growth by Design:
• On-brand web solutions in support of your credit union's story
• Mobile friendly, responsive sites so you can connect with your members, 24/7
• Search engine optimized so people can find your site
• ADA accessible so people can use your site
• Fully integrated for a streamlined member experience
Plus, you can save up to $1,500 if you act now!
Is your credit union under $50M in assets?
• $4,500 ($1000 savings)
Responsive Site Development & ADA One-Time Website Scan and Remediation
• $8,000 ($1000 savings)
Responsive Site Development w/ Content Management System & ADA One-Time Website Scan and Remediation
Is your credit union over $50M in assets?
• $5,500 ($1000 savings)
Responsive Site Development & ADA One-Time Website Scan and Remediation
• $9,000 ($1500 savings)
Responsive Site Development w/ Content Management System & ADA One-Time Website Scan and Remediation
Call 800-768-4282 or email contact@growthbydesign.org today to get started on your new site!
The 2021 holidays are fast approaching, and the pandemic is still affecting consumer and cardholder behavior. This year is still different than previous years. Is this our new normal? Credit Union debit and credit card issuers need to focus on messaging to encourage holiday spend on their payment card products instead of cash and check. According to the Five Trends to Watch During the 2021 Holiday Shopping Season by Forbes, holiday shopping has begun due to supply change challenges, and Black Friday deals are already being offered weeks before the day after Thanksgiving.
The Pays. If your credit union offers "The Pays" (Apple Pay, Samsung Pay and Google Pay), prompt members to add your credit union debit or credit cards when you see they have a smart phone. Train your teams on how to help members add a card to the Pays. Show members how to add their card while they are in the branch. In 2020, two billion mobile wallet debit transactions were done using The Pays*, up 51% year over year. It's safe, easy, and secure to use a mobile wallet for in-app and in-store purchases.
Buy Online and Pick Up In-Store. Ask your members if they use their credit union card for online click & collect orders. The curbside pickup trend is still going strong with buy online and pick up in-store (BOPIS). Click and Collect retail sales exceeded $58.52B in 2020 and is anticipated to continue to rise throughout the 2021 holiday shopping season.
Shopping safely and securely. Using a credit or debit card for holiday shopping is safer than carrying cash and easier than writing checks at the checkout line. Remind your cardholders they can shop safely online or in-line with a credit union issued credit or debit card. Promote safety and security messaging to gain more online digital shopping transactions.
Rewards. Rewards. Rewards. Over 68% of credit card users cite rewards as the main driver for using that payment option for purchases*. As retailers entice consumers with specials deals to increase sales, issuers need to entice the cardholders to use their credit union issued card products to earn rewards with every click, tap, dip, and swipe.
The Ten busiest shopping days this holiday season:
1. Friday, November 26 – Black Friday
2. Saturday, December 18 – Super Saturday
3. Thursday, December 23 – Thursday before Christmas
4. Saturday, December 11 – 2nd Saturday in December
5. Sunday, December 26 – Day after Christmas, aka "Boxing Day"
6. Wednesday, December 22 – Wednesday before Christmas
7. Saturday, November 27 – Saturday after Thanksgiving
8. Saturday, December 4 – first Saturday in December
9. Tuesday, December 21 – Tuesday before Christmas
10. Sunday, December 19 – Sunday before Christmas
For information about offering Rewards or The Pays to your cardholders, contact consulting@myleverage.com for additional information.
Sources:
* Pulse Annual 2021 Debit Issuer Study
*Payments.com
LendKey provides credit unions access to high quality consumer loans to help deploy capital and diversify their balance sheets through a variety of assets, including home improvement loan participations.
LendKey, one of Leverages preferred partners, offers a nationwide home improvement program that works with contractors to provide financing to creditworthy homeowners. Credit unions can deploy capital and mitigate risk by purchasing recurring loan participations at a 10% equity stake, with a target net return over 3.00% on a weighted average life of 4.5 years.
LendKey has over ten years of experience facilitating these types of loan participations and have driven over $4 billion in total participation volume to credit unions.
To learn more about how LendKey can help your credit union deploy capital in 2022 email consult@myleverage.com.